USA Rice Think Rice Wins Association Website of the Year Award
Written on August 3, 2022
USA Rice Think Rice came out on top to take home the honor as Association Website of the Year in the Progress Sitefinity 2022 Awards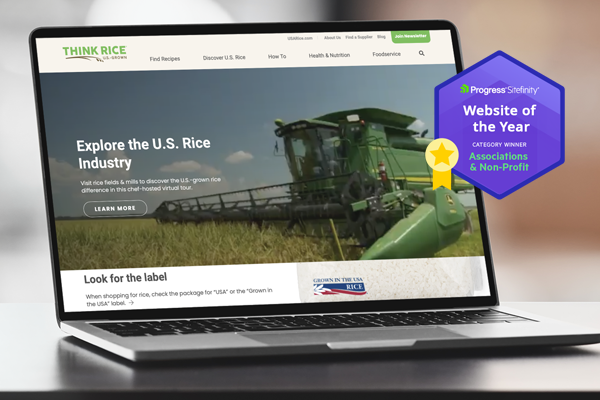 USA Rice delivers both industry-focused and community-facing digital experiences through its USARice.org website and Think Rice consumer-focused microsite.
As the result of a website redesign, Think Rice has transformed into a modern, content-driven, search-optimized, and high-performing website providing stellar experiences to both end users and content contributors.
Challenge:
USA Rice was eager to expand and support its promotional efforts to raise awareness and use of US rice through the Think Rice microsite. However, the at-the-time CMS could no longer support the needs and wants of the organization, warranting an upgrade.
Solution:
USA Rice teamed with Results Direct to leverage the Progress Sitefinity content management system (CMS) to:
Incorporate more consumer-focused features on the microsite


Integrate Solr search, enabling users to look for specific content such as recipes


Develop new content curation and management capabilities

Results:
USA Rice has experienced tremendous growth in website visits and usage as the result of its Think Rice microsite redesign:
Over 400 rice recipes can be searched through specific criteria, including meal, cuisine, lifestyle and rice type


50% increase in unique users visited the website after upgrading the digital experience for web and mobile platforms


Web traffic jumped up by 43% as latest content was optimized for SEO, such as newly published articles on its The Scoop blog.

"One of my favorite parts of the site is our new recipe search, which was a completely customized tool. When users come to this search, they can start with a keyword and it will not only search the recipe title, but it will also search the body of the recipe. It's incredibly helpful when users are searching for the website by ingredient."

Katie Maher
Director, Domestic Promotion Programs
USA Rice Federation
_________

For more information,
visit the
USA Rice Website Success Story
to learn more and hear Katie Maher, Director Domestic Promotion Programs at
USA Rice
, talk about the success of the
Think Rice
site.
Results Direct Can Help: Schedule a Meeting
If you're looking for results from your website, Results Direct has a proven track record of success. Schedule a meeting to discuss your Digital Strategy, Website Redesign, CMS, or AMS Integration project.
Schedule Meeting
How can we help you today?
We handle your data as we would want our own data handled. This form collects your contact information so that we can follow-up on your request and contact you about our other products and services. Please read our Privacy Policy for more details on how we store, process and protect the data you share with us.