BiKBBI's Game-Changing Member Mobile App
Written on April 14, 2023
The British Institute of Kitchen, Bedroom & Bathroom Installation launches game-changing member mobile app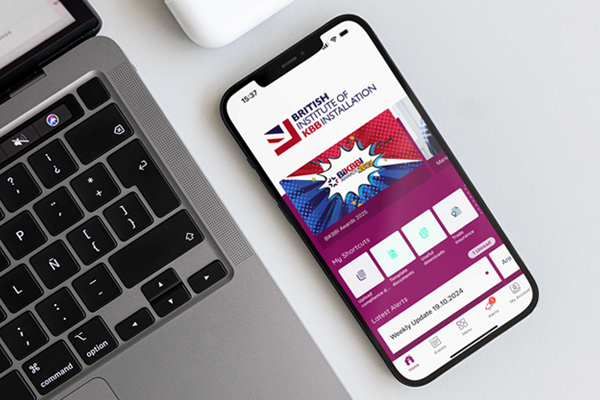 The British Institute of Kitchen, Bedroom & Bathroom Installation (BiKBBI) represents 1000s of small to medium-sized professional installers, retailers and manufacturers and is dedicated to supporting reputable KBB installers and retailers, improving standards, and providing consumers access to free practical advice and an informed choice in KBB installation.
Providing value for members via a mobile app
BiKBBI members are independently-accredited kitchen, bedroom and bathroom installation specialists that operate in customers' homes and conduct their business mainly via their mobile devices.
In 2022, BiKBBI launched an effort to help installers on the job by delivering information, resources, and services via a mobile member app.
In the past, the organization was challenged with providing valuable, up-to-date content that was easy for members to access. "More traditional ways of communicating with our audience were not yielding the same successes they once were," said Damian Walters, Chief Executive of BiKBBI.
BiKBBI looked at creating a custom mobile app but found that the off-the-shelf Engagefully app from Results Direct | RD Mobile was an ideal fit for their needs – at a fraction of the cost.
"The platform was built for associations, we could launch our app quickly, and it wouldn't drain our limited staff resources," said Walters.
How the app helps members do their jobs better
The BiKBBI member app provides member installers/remodelers with access to proof of certification, business tools, technical reference documents, and guidance – right on their phones. When members encounter an issue on-site, they know that the app is the place to find:
Business templates – contracts, variation (change) orders, payment receipts to share immediately with customers


Legal and transactional guidance – tips on how to transact business proactively and productively, avoid disputes, and resolve miscommunications with customers


Compliance requirements – information related to business licenses, incorporation, and liability insurance


Building regulations and codes – most up-to-date information from government websites


Standards and guidance – BiKBBI code of conduct, best practices, health and safety information, and member obligations


News and publications – latest news and current and back issues of The Installer Magazine


BiKBBI Campus – access to online training center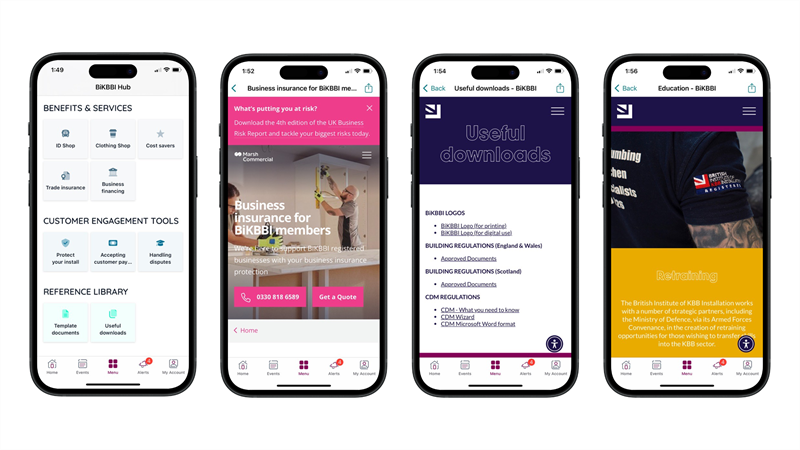 How the app has impacted the association
The impact of the Engagefully app on the BiKBBI organization has been significant. Within days of launching its mobile member app, members were sharing comments such as "This app is a game-changer for me."
The app has helped BiKBBI better serve members by providing more value, tailor its communication strategy to push strategic, targeted messages, and make it easier for members to engage with the association and manage their own experiences.
Members can use the app's My Profile feature to manage their compliance information (certifications/qualifications) and maintain their BiKBBI contact information, renew their subscription, and communicate with the association.
The mobile app enables BiKBBI to:
Provide up-to-date and accurate information for members


Realize significant cost savings by eliminating printing and distribution costs


Engage members more fully


Convert non-members into registered businesses


Working with RD Mobile
BiKBBI was able to launch its app within 3 months of contracting with RD Mobile. Each month, 2,000+ members use the mobile app.

"RD Mobile delivered a highly-tailored and cost-effective app, and I couldn't recommend them highly enough."
Damian Walters
Chief Executive
The British Institute of Kitchen, Bedroom & Bathroom Installation
RD Mobile Can Help: Schedule a Meeting
If you're looking for an Event Platform or Member App that delivers ROI, RD Mobile has your answer. Schedule a meeting to discuss your event (in-person, hybrid, virtual) or year-round mobile engagement needs.
Schedule Meeting
How can we help you today?
We handle your data as we would want our own data handled. This form collects your contact information so that we can follow-up on your request and contact you about our other products and services. Please read our Privacy Policy for more details on how we store, process and protect the data you share with us.