Is your website ready for a redesign and are you looking to ensure the maximum return on your website investment?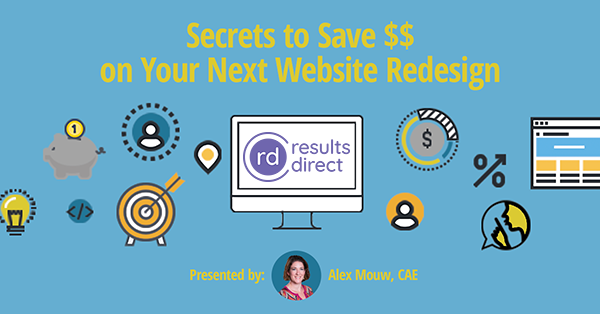 I've been working with associations for over 20 years to help them research, design, and implement dynamic website redesign projects. I'm often asked to share my money-saving secrets and here are my top 8 tips:
Tip #1: Focus on Simplicity
Think about your favorite websites. What is the user experience like? Your website visitors are looking for similar experiences from your association. Reduce areas of friction that keep users from getting to what they want quickly. Keep elements like webpage layouts and forms simple. Simplicity is best for users and your staff.
Tip #2: Avoid Customizations
Redesigning your website is the perfect time to try new things and break old habits. Take this opportunity to implement a new, simpler process rather than recreating what you've always done. Instead be willing to take a new approach and use your new system to its fullest capabilities.
Tip #3: Build A Strong Foundation
When was the last time Amazon redesigned their website? The answer is, they haven't. That's because website redesign is an ongoing process. Save money by focusing on implementing subtle changes to your website on a regular basis. These smaller changes are not disruptive to your users and empower staff to become member service-driven every day.
Tip #4: Be Timeless, Not Trendy
Ensure your website won't go out of style by investing in the timeless and mix in a few trends. Decide what design elements will help you to best achieve your goals. For example, use images, not stock photos. Seeing real members builds a strong connection with website visitors and is an investment that will always pay off.
Tip #5: Pick the Right Software License
Select the software that is the best culture fit. Here's why – you want your staff to use it. Instead of focusing on a checklist of features, look at the user interfaces. A good cost-saving exercise is focus on what staff need to do and make sure those tasks are simple, intuitive, and save time.
Tip #6: Find the Right Partner
Working with a partner can supplement your staff skill set. Select a partner that truly listens and takes the time to understand your goals and vision for the future. Together you can create a solid foundation for growth. Your website should over both immediate improvements to the online experience and set the stage for continued improvements over the next several years.
Tip #7: Retire Stale Content
During content planning, let go of old content. Your website is not a file cabinet. Your website is the best representation of your most relevant and timely content. The result of migrating state content is a cluttered site search and an awful user experience. Instead use Google Analytics to identify the top 100 webpages and make them awesome. Huge cost savings could be achieved there.
Tip #8: Breaking Old Habits
Content governance is essential. Empower your staff to make content decisions and help them understand the importance of content tagging. I suggest using automation tools within your CMS to migrate stale content. For example, setup a rule to remove press releases after 6 months. Set staff up to succeed by providing training around topics like responsive design best practices.
Results Direct Can Help
I'm passionate about working with associations to create dynamic and engaging website experiences that help you achieve your goals.

Ready to talk about your digital strategy or website redesign? Results Direct can help: Contact us