Digital strategy should align with and complement the organization's overall strategy – a good digital strategy defines how technology can support the organization in meeting its objectives and goals. Focus on the what, not the how – don't pursue a new tool for its own sake, but instead have a clear understanding of what your organization is trying to accomplish, and then evaluate which tools will help you reach those goals.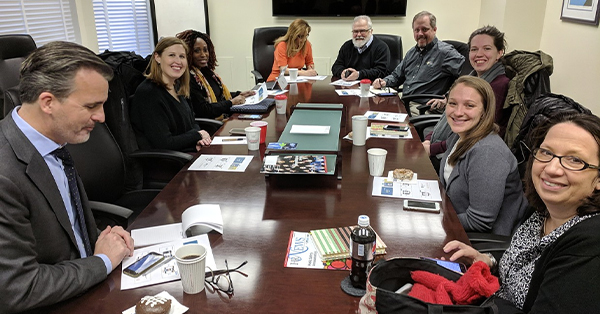 Sometimes, less is more. Organizations don't have the resources to be all things to all people. Identify and prioritize your target audiences. Focus on initiatives that amplify the unique value proposition that your organization offers its members and audiences. Talk with and survey your members to determine their priorities and needs. NAEA's Robert Kerr summed it up nicely – "We can do anything, but we can't do everything."
Leverage what you have. Associations often have a wealth of content that can be repurposed throughout its digital channels. Doing so reinforces the association's core messages and drives audiences to additional content. For example, content from a magazine article may inform a social media campaign, a blog post, and a video.
Have a plan. Define and document a shared vision of what you hope to accomplish, and how. An essential component of any initiative is identifying and empowering the responsible persons, and clearly defining goals and expectations. For example, if you are launching an online publication, who is responsible for creating and maintaining the content? Is it staff? Member volunteers? Vendors? Some combination of these? If comments are permitted, who is monitoring them? Have policies been defined and promoted through the community?
Measure success. Set measurable goals, measure your progress in achieving them, and adjust your strategy as necessary. Some outcomes, such as conference registrations, are easier to track and measure. Others, like improving brand awareness, are more challenging, but there are still metrics than can be used, such as shares of content, or positive vs. negative posts.
Have an exit strategy. Perhaps a product has reached the end of its useful life cycle, or perhaps an initiative never achieved the hoped-for outcomes. Planning for these contingencies at the start of a project will make sunsetting a program easier.
Results Direct Can Help
Investing in a digital strategy is time well-spent. Your digital strategy will keep your organization focused on outcomes and guide your team's efforts.
Ready to talk about your digital strategy or website redesign? Results Direct can help: Contact us