I love sharing tips for getting the most value out of your website investment, including how associations can apply the right tactics to ensure that your website redesign won't quickly go out of style.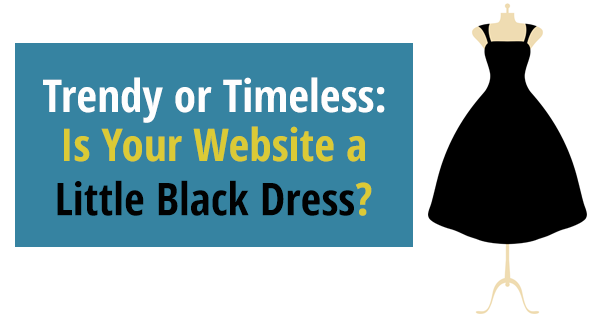 We all make trendy or timeless decisions – from selecting the perfect paint color for our homes to adding new pieces of clothing or accessories to our wardrobe. When it comes to your website, I say it's important to invest in the timeless and mix in the trends.
Here are a few examples:
Keep the Homepage Simple

Is your homepage making the right first impression? While it's perhaps the most politically-charged page on your website, it shouldn't be a departmental battleground. A clear focus on your mission will never go out of style. The purpose of the homepage is to provide a clear, easy-to-find value proposition with intuitive navigation.

Use Real Images

When possible, I recommend the use of real imagery rather than relying on stock photos. Seeing real members builds a strong connection with website visitors and is an investment that will always pay off. The Indiana CPA Society (INCPAS) uses member images on their website banners, visually reinforcing the true diversity of their membership and profession.



Play with Micro-Interactions

Micro-interactions enable you to introduce small bits of movement based on how a user is engaging with a website. This is an extremely effective way to grab the user's attention, highlight a call-to-action or promote a new branding element. Check out the US Dairy Export Council's Think US Dairy microsite where the homepage banner expands to feature more information when an impression is made. This is a great alternative to the rotating carousels that perform so poorly on usability tests.



Leverage Data Visualization

Associations already use data visualization in annual reports. Data visualization is simply a graphical representation of data – usually a chart, statistic or graph. Include these images on your website for real impact. See how the National Ground Water Association homepage features data visualization to describe Groundwater's importance to the environment.



Focus on Mobile Experiences

Think about the internet searches you do on a daily basis. What are you using to search – a mobile device? It's essential now and going forward that websites are optimized for mobile access. Mobile will always be in style.
Results Direct Can Help
I'm passionate about working with associations to create dynamic and engaging website experiences that help you achieve your goals.

Ready to talk about your digital strategy or website redesign? Results Direct can help: Contact us