Website personalization is the process of creating customized experiences for visitors to a website. Rather than providing a single, broad experience, personalization allows associations to provide customized experiences tailored to meet individual member interests and needs.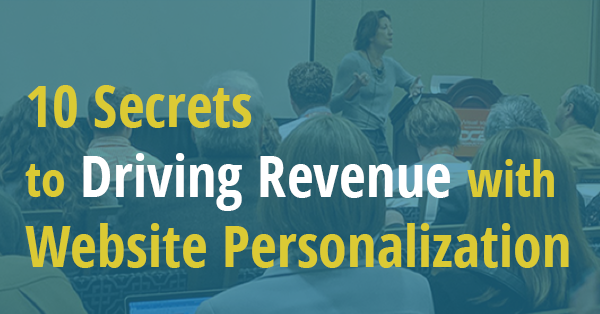 Here are 10 secrets to driving revenue with personalization:
Highlight Member Benefits

Your website is full of useful content and resources. Feature members-only content and resources to reinforce the value of membership. Tag featured content with an icon to depict member vs. non-member access. This will serve as a quick, at-a-glance reminder of membership value. If you want complete access, you must be a member.

Create Renewal Reminders

Membership renewal is the perfect time to put personalization to work. Schedule a series of membership renewal reminder messages 90, 60 and 30 days out from expiration. Upon login, the member will see the message, be reminded of benefits, and will be more likely to renew.

Complete Member Profile

Encourage members to complete their online profile by providing a simple form with call-to-action prompts. Auto populate the form if possible. Ask members to complete a new data point at every login. Provide a visual indicator for profile completeness (think LinkedIn) to further reinforce your ask.

Capture the Abandoned Cart

One of the largest e-commerce challenges is closing the sale. Often online carts are filled with products and later abandoned before the transaction is completed. Send members with abandoned carts a "Forget something?" email reminder to review the items and complete the purchase. Sometimes, you can actually increase the number of products that a member purchases by offering free shipping or a discount offer.

Cross-Sell/Up-Sell Related Products

If you want to create a positive buying experience for your members, proactively promote related products and services throughout the website experience. For example, if a member is reading an article on a particular subject, recommend a whitepaper or upcoming course on the same subject.

Design a Learning Pathway

Understand that the needs of your members change throughout their careers. Being relevant to each member means understanding where they are in their career today and delivering the content and programs that best support career advancement.

Encourage Education & Certification

Use personalization to alert members already attending your programs that they are on the path to potential certification. Use compelling data visualizations about the value of certification, such as career advancement and higher salaries.

Promote Local Events

Use geolocation or chapter affiliation to encourage members to get involved and attend more events in their area. A great place to start is to personalize event landing page imagery. Members are more inclined to take action because the experience will feel accessible and relatable.

Build Member Tribes

This is what associations are all about! Connect members with special interest groups (SIGs) based on their identified interest areas. Ask SIG leaders to send a personal note. Even better, set up first-time members with mentors.

Identify Knowledge Gaps

Create a quiz tool to help your members know what they don't know. By identifying knowledge gaps, you can effectively guide members to the programs, events, and content to help fill those gaps.
BONUS: Use self-segmentation to give members more relevant content. For example, the Association of Community Cancer Centers (ACCC), includes a homepage feature for visitors to "choose their specialty". Upon selection, users are presented with a tailored landing page, featuring the resources that are most relevant to their selected specialty.


Results Direct Can Help
Personalization is hard. It exposes our bad data, involves our systems working together and requires a smart personalization strategy. I can help! I'm passionate about working with associations to create dynamic website experiences that accomplish your organizational goals.

Ready to talk about your digital strategy or website redesign? Results Direct can help: Contact us