How to Do Hybrid: Transitioning to Blended Events
Written on October 8, 2021
After 18 months of delivering virtual events, organizations are planning the transition from "virtual-first" back to "in-person first"
As we move back to in-person events, how are event organizers capitalizing on the successes they enjoyed with their virtual events – including greater attendee numbers and expanded global reach? The answer is that many planners are now incorporating virtual elements into their events.
The shift back to "in-person" can be accomplished in several ways, each providing different benefits and involving different logistical and cost considerations:
Hybrid events

– 2 events running simultaneously (1 in-person, 1 virtual)

Hybrid means planning and delivering 2 events and requires extra logistics such as additional (and often expensive) technologies and services including livestreaming equipment and production crews to support live content feeds from the in-person event



Blended events

– in-person event complemented by virtual components

Blended focuses on in-person sessions and activities that are most successfully delivered face-to-face, with virtual components that extend the experience such as in-person events run back-to-back or bookended with virtual content or recorded keynotes and sessions complemented by virtual break-out discussions
Two organizations that have successfully navigated their way back to delivering their in-person events with virtual components include the National Association of Manufacturers (NAM) and American Association of Airport Executives (AAAE).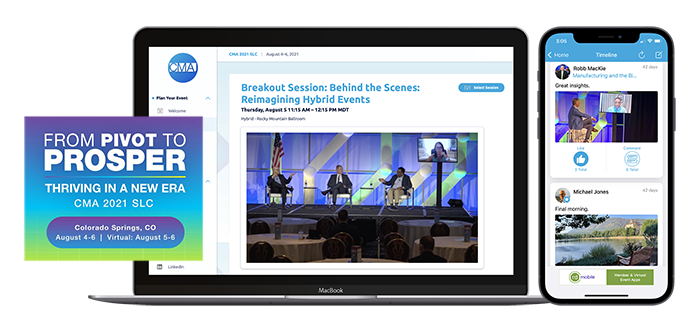 For the National Association of Manufacturers' CMA 2021 Summer Leadership Conference, Assistant VP of Conference Operations Brian James and his team planned an in-person event for CEOs and senior executives of manufacturing associations at the Broadmoor Resort in Colorado Springs, CO with virtual components.
NAM's conference had 80% of attendees onsite and 20% participating virtually. General sessions and break-outs were streamed live, with some speakers participating virtually, and virtual networking was facilitated by an onsite NAM Conference Host.
In-person attendees enjoyed an extended agenda, social events, and digital access for team members. Virtual attendees participated in dedicated break-out sessions for virtual-only attendees. And all attendees were given access to session recordings post-event.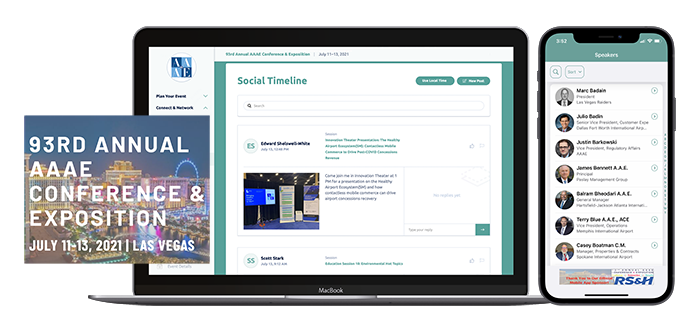 For the American Association of Airport Executives' 93rd Annual Conference & Exposition, Director of Meetings Christine Montgomery and her team planned an in-person event and expo for aviation industry leaders at the Mandalay Bay Resort in Las Vegas, NV with a hybrid format.
AAAE's conference had 1,500 attendees onsite and 200 participating virtually. General sessions and 2-3 concurrent sessions in each time slot were live-streamed (attendees decided which sessions), and Prime Partners were given virtual booths in addition to their booths in the onsite expo hall.
The association's in-house A/V team and producers managed "Live from Las Vegas" feeds, virtual speakers, and a social wall showing virtual attendees. In-person attendees were able to participate in all sessions and social events and visit the 180-booth expo.
Both NAM and AAAE delivered their in-person and virtual conferences using RD Mobile's Engagefully mobile engagement and event platform.
_________
To help you plan your organization's next in-person or hybrid event, download the 20-page Results Direct | RD Mobile Guide to the Future of Virtual, Blended & In-Person Events, which includes association success stories and lessons learned for transitioning from virtual events back to in-person.

Download Guide
RD Mobile Can Help: Schedule a Meeting
If you're looking for an Event Platform or Member App that delivers ROI, RD Mobile has your answer. Schedule a meeting to discuss your event (in-person, hybrid, virtual) or year-round mobile engagement needs.
Schedule Meeting
How can we help you today?
We handle your data as we would want our own data handled. This form collects your contact information so that we can follow-up on your request and contact you about our other products and services. Please read our Privacy Policy for more details on how we store, process and protect the data you share with us.